National Forage Testing Association
Welcome to the NFTA website.
This site is your resource for relevant information about forage testing and your place to get certified. Forage and feed testing is important because value pays.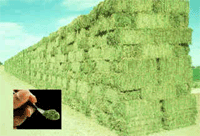 The last set of 2018 samples shipped 21 November 2018 with a due date of 28 December 2018. Enter your results at http://certification.foragetesting.org
​
We are currently accepting enrollment in the 2019 program. For details click here. Contact us with any questions.
​
Visit our friends
​
​
​
​
​
​
​