National Forage Testing Association
Welcome to the NFTA website.
This site is your resource for relevant information about forage testing and your place to get certified. Forage and feed testing is important because value pays.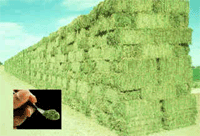 The last set of 2019 samples shipped 07 November 2019 with a due date of 19 December 2019. Enter your results at http://certification.foragetesting.org
​
We are currently developing an online enrollment process for 2020 and expect to launch it just after the first of the year. An email with more details will be sent out to all currently enrolled labs once we know the exact launch date.
​
Visit our friends
​
​
​
​
​
​
​