National Forage Testing Association
Welcome to the NFTA website.
This site is your resource for relevant information about forage testing and your place to get certified. Forage and feed testing is important because value pays.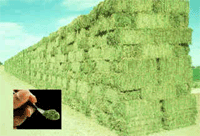 Special Notice:
The NFTA has partnered with First Response Training International to provide an online training course in Airborne Pathogens. Training employees to properly address the risks of Airborne Pathogens is a major step in getting the world back to work. For a limited time, you can complete the course for free by going to www.firstresponse-ed.com/stay-safe/ and using the promo code STAYSAFE2020. This is available to any NFTA member or non-member courtesy of First Response Training International. The course is currently available in English, Spanish and Portuguese, with more translations to come.
​
​
The NFTA data website is now accepting enrollment for the 2021 program. Please login using your existing account at app.foragetesting.org
Signup today at app.foragetesting.org
​
​
​
Visit our friends
​
​
​
​
​
​
​